Today's Featured Friday Pet is Mudd!
Friends, we will begin with the full and honest disclosure that the author of this post is currently harboring a huge crush on Mudd. If this author were in the position to make Mudd a kept man, you all would be seeing hide nor hair of this dog as he would already be in his new home getting belly rubs by the fire. Alas, the dog-hating cat belonging to this post's author has threatened legal action against her were she even to mention it, so sadly, only a crush it remains.
The GOOD news is one of you gets to have him instead. Where to even begin with this wonderful dog? 3 year old Mudd is a big boy but quite subdued; we're pretty sure he's part garden snail. This is lovely, because his bigness won't pull your arm off or knock over small children, but is a soft expanse of living breathing body pillow. Lumbering along, Mudd sleepily wags his tail and accepts pets and kisses from all his admirers, which is inevitably everyone. He recently lost his family, who were heartbroken to give him up, when they had to move and couldn't bring him along. Although we usually try to not project our feelings onto animals, when Mudd rests his head gently on your lap and looks up at you with those soulful eyes, as he likes to do, they betray a little sadness, one we ache to take away. His former family reports that he was gentle and sweet with with 8 cats, a Yorkie and the little girl in the home. Mudd was accustomed to a fair amount of space and definitely enjoys his outdoor time, so would be happiest in a home with some room to explore or at least a fenced in yard. This very special dog finds his way into the heart of everyone he meets, and although we love him so, we know he'll be a lot happier when his new family comes along . If you need some big dog love in your life, we dare you to come meet Mudd and not to fall in love. Please share and help us find this big fella his new happily ever after!
/
by Laura Rice
https://www.blueridgehumane.org/wp-content/uploads/2019/03/Mudd.jpg
1024
1024
Laura Rice
https://www.blueridgehumane.org/wp-content/uploads/2016/08/BRHS-Logo-01-1030x305.png
Laura Rice
2019-03-15 09:00:39
2019-03-14 16:55:20
Meet Mudd!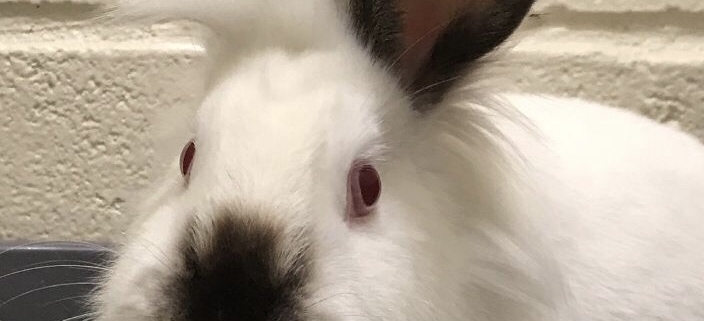 Today's Featured Friday Pets are Mojito and Margarita!
Looking for somebunny to love? We've got your back! Bunnies are very sensitive and smart creatures that can make wonderful companions for the right home. These two beauties were abandoned in a box on someone's doorstep with their two babies, who have since been adopted. Now it's mom and dad's turn! Both are very gentle and mild-mannered bunnies that are still a bit shy, but warming up nicely to us bringers of greens and carrots, humans! They are very neat buns that already use a litter box and enjoy all the normal bunny things like chewing boxes, having their ears gently stroked, and hopping around looking cute. Did you know, that when bunnies are very happy, they do something called a "binky?" It's a super cute move that you're lucky to see, because you know they are feeling good!
Bunnies are long lived creatures that, having fragile skeletons, do best in homes with adults or older children. With proper care they can live 10+ years, and can definitely bond with people as well as with each other.
Mojito and Margarita are about a year old and were both recently fixed. They are currently separated so as they heal from surgery, but as male and female rabbits are easiest to bond, may be happy being reintroduced for anyone looking for a pair. We would love to see these two binkying in the bunny home of their dreams as soon as possible! For more information, give our adoption center a call at 828-692-2639 or just stop by to meet them. Please share for Mojito and Margarita!
/
by Laura Rice
https://www.blueridgehumane.org/wp-content/uploads/2019/03/041772F7-1882-4BAA-8254-82A6BE034488.jpeg
936
704
Laura Rice
https://www.blueridgehumane.org/wp-content/uploads/2016/08/BRHS-Logo-01-1030x305.png
Laura Rice
2019-03-08 14:48:53
2019-03-08 14:49:43
Meet Mojito and Margarita!

Today's Featured Friday Pet is Tallulah!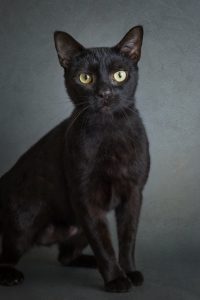 If you're in the market for a top notch hauspanther, your search is over! 4 year old Tallulah is a real supermodel material – chic, elegant and confident. Her great qualities aren't just skin deep however; Tallaluh is a deeply intelligent, capable girl that can mentally calculate the distance (rate x time) of any nearby prey while fixing her hair at the same time. Fearless and inquisitive, nothing phases her. She met a dog the other day and visibly shrugged her shoulders. We thought initially that she deserved full-on diva status with other cats, but upon further investigation, we think she's not so bothered by them either. Talullah is also highly social and affectionate, so don't think her spunkiness doesn't come with a sweet side. If you're looking for a bold cat that may enjoy some safe indoor/outdoor access, or that you might even be able to take on adventures on a harness, Talullah might be your girl. She is celebrity material that just needs someone to turn her into a superstar! Since Talullah has been waiting over 14 days for a home, her adoption fee is only $20. If she sounds like your kind of woman, please stop by our adoption center to meet her today!
/
by Laura Rice
https://www.blueridgehumane.org/wp-content/uploads/2019/02/Tallulah.jpg
2048
1365
Laura Rice
https://www.blueridgehumane.org/wp-content/uploads/2016/08/BRHS-Logo-01-1030x305.png
Laura Rice
2019-03-01 09:00:07
2019-02-28 15:47:42
Meet Tallulah