Today's Featured Friday Pets are Grayson and Rambo!
Grayson and Rambo are our two longest term cats that may as well be brothers from another mother. These two boys have a lot in common – both are both senior (12 years) and FIV positive. They haven't had the greatest luck – owner passing away, ending up stray, getting returned, you name it. Both are very sweet in their own unique ways – Grayson is a quiet lap cat with a gentle demeanor, Rambo is a quirky boy that loves to loiter wherever head scratches are being doled out. Each one will take a very special adopter looking to really make a difference in the life of an animal. Perhaps most notably, both possess a touch of RBF and an unexpected flair for fashion.
Although FIV used to be considered a death sentence, it has been shown that cats can live long, healthy lives with the disease. FIV cats simply need an indoor home where their exposure to disease is limited and a closer eye kept on their health. And since FIV is only spread through deep bite wounds, cat friendly FIV cats can mingle with negative cats – which both Grayson and Rambo have. We know the stigma is still there, which is unfortunate for these two amazing kitties, because they have waited so long to be given a chance. Both of their adoption fees have been sponsored, and it would make our New Year so bright to see one (or both) of them find their new homes. Rambo is the current foster kitty at Wild Birds Unlimited, and Grayson is at our adoption center!
/
by Laura Rice
https://www.blueridgehumane.org/wp-content/uploads/2019/01/FP-1.4.jpg
907
720
Laura Rice
https://www.blueridgehumane.org/wp-content/uploads/2016/08/BRHS-Logo-01-1030x305.png
Laura Rice
2019-01-04 07:00:22
2019-01-03 21:13:45
Meet Grayson and Rambo!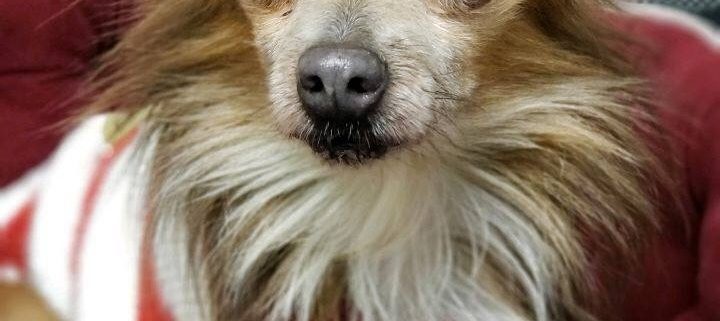 Today's Featured Friday Pet is Pineapple!
Poor little Pineapple, Santa forgot to bring him a forever home for Christmas! This sweet little senior is admittedly is a bit overwhelmed by the big bad world, but despite his shyness, comes with a 100% Diamond in the Rough guarantee. His scaredy-dog status is not of the nippy or yippy variety; in fact, Pineapple almost never makes a peep and his favorite place is the quiet, warm lap of a human. It takes a while, but it's both sweet and a little heartbreaking to feel his tense little body finally unwind after several minutes of quiet closeness. He is sure to open up with time in a mature, quiet home and with someone with lots of patient affection to offer him.
Pineapple is 9 years old, is happy in a crate and seems fine with other mellow dogs. He's heartworm positive, which means his adoption fee has been waived and his treatment has been covered. He'll need a period of several weeks of rest after treatment, which with his snail-like energy level, should be easy enough. Heartworm disease is treatable but not fun or cheap, so please keep your dogs on heartworm prevention, ok kids?
For more info on Pineapple and/or what his heartworm treatment entails, please give us a call or stop by our adoption center!
/
by Laura Rice
https://www.blueridgehumane.org/wp-content/uploads/2018/12/Pineapple-3.jpg
960
720
Laura Rice
https://www.blueridgehumane.org/wp-content/uploads/2016/08/BRHS-Logo-01-1030x305.png
Laura Rice
2018-12-28 07:26:32
2018-12-28 16:31:25
Meet Pineapple…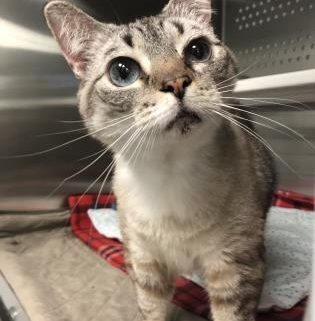 Today's Featured Friday Pet is Lily!
Volume up for purr-cam! Lilly is a 6 year old Lynx Point Siamese mix that really should have been the house cat on the show Absolutely Fabulous, because she is absolutely, you guessed it, fabulous. What a perfect, roly poly angel baby this kitty is. As evidenced by this video, Lilly adores pets of all varieties, especially belly rubs, and all it takes is a couple chin scratches to get her massive purr motor going. She is an absolute doll that loves everyone; she is pliant and gentle, her soft squishy body a living, breathing stress ball.

Not surprising that Lilly beholds the desirous friendliness trifecta – cats, kids, and dogs. Lilly believes in the Golden Rule – purr unto others as you would have them purr onto you. A person looking for a cat that can roll with the punches and get along with just about anyone should not wait to come meet Lilly – cats like this don't come along every day, and we don't think she'll be with us long.
Lilly's adoption fee is only $15 through Sunday, so we suggest scooting on over to meet her! Please share and help Lilly find her Home Fur The Holidays (and forever)!
/
by angelap
https://www.blueridgehumane.org/wp-content/uploads/2018/12/1b3513a6-6880-43e4-b314-ca8ef9a3423c.jpg
420
315
angelap
https://www.blueridgehumane.org/wp-content/uploads/2016/08/BRHS-Logo-01-1030x305.png
angelap
2018-12-21 14:28:47
2018-12-24 14:32:58
Meet Lily…