Today's Featured Friday Pet is Addie!
Sweet 5 month old Addie had an adopter lined up, but unfortunately he changed his mind. Luckily for you, that means this cutie is back on the market! Addie was found as a stray with a horrible botched crop job on her ears and a bebe pellet under the skin on her head. Several people have already given this dog every reason to dislike humanity, but somehow she still manages to love us. Addie has a delightful disposition – outgoing but gentle, happy but not hyper. For a dog her age, she's surprisingly quiet, not jumpy or mouthy, and her people-oriented nature should be promising for some great training potential.
Addie attended an event yesterday with lots of young kids present, and did amazingly! She's got sweet little mug that will melt the hardest of hearts and dons a Christmas sweater like a champ. Her favorite Christmas movie is Scrooged and loves Bill Murray in all his roles. Addie has been in our care for over two weeks, so her adoption fee is only $20! She would love to have her very own Home Fur the Holidays, so please stop by today from 10-5 to meet her!
/
by angelap
https://www.blueridgehumane.org/wp-content/uploads/2018/12/48194146_2380146552037607_1299693628171485184_n.jpg
720
960
angelap
https://www.blueridgehumane.org/wp-content/uploads/2016/08/BRHS-Logo-01-1030x305.png
angelap
2018-12-14 10:27:39
2018-12-15 10:29:16
Meet Addie…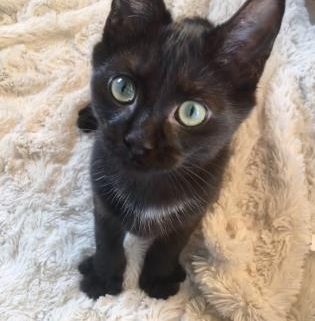 Today's Featured Friday Pet is Garth!
Take heed friends, your search for the perfect kitten is finally over. Garth is a love maniac, a 4 month old modern day Catstanova bursting at the seams with persistent affectionate urges. Although he's perfectly bouncy and never turns down a chance to play, what Garth really loves best is, well, love. His purrs are constant and conspicuous and far cheaper than therapy. The way he literally leaps into your arms and instantly melts with your touch is proof that there's a higher power and it wants us to be happy. Basically, little Garth is a living ray of sunshine in the form of your basic black feline.
As a wee babe we noticed that Garth was struggling with some poop-related challenges (long story), and our friends at Apple Valley Animal Hospital were finally able to diagnose him with having a colon with low motility. While "Colon of Low Motility" may sound like the sophomore effort of some obscure metal band, it basically just means that Garth's colon is a wee bit big and stretchy. How appropriate that a kitten with a heart larger than life would have other organs out of proportion as well. Luckily, there are medications to help with this issue and he has been continually improving in foster care! We believe that Garth is now ready for his forever home and we intend to find him just that.
If you would like more information on sweet Garth, please don't hesitate to stop in our give our adoption center a call at 828-685-7107, or feel free and stop by to meet him yourself and try not to fall in love! During our "Adoptageddon" Adoption Promo, his adoption fee is only $10! Please spread the word for this most special of kitties!
/
by angelap
https://www.blueridgehumane.org/wp-content/uploads/2018/12/47681416_2369163146469281_3185150615751753728_n.jpg
420
315
angelap
https://www.blueridgehumane.org/wp-content/uploads/2016/08/BRHS-Logo-01-1030x305.png
angelap
2018-12-06 16:44:09
2018-12-06 16:44:09
Meet Garth…
Today's Featured Friday Pet is Blake!
Today is the last day of Adopt a Senior Pet Month, and we're going out with a bang with Blake! This 8 year old, 24 pound bundle of fun is living proof that age ain't nuthin' but a number. Blake is what you would call an active senior. You know that well-preserved old dude you always see at the gym always busting out the calisthenics and sweating less than you? Blake is the dog version of that guy. He's got a tail wag that never quits and a bounce in his step that's the envy of most humans over 30. Blake is VERY happy to meet you and VERY excited about life and he frankly, doesn't care to act his age, please and thank you.

This ultra-friendly perma-wiggler seems sweet towards other dogs, and we're guessing would make fast friends with children. Blake has such a happy, positive energy that is bound to bring much sunshine in the coming cold days. It's the last day of Fee Waived Seniors, so don't sleep on this sweet boy any longer! Stop by our adoption center from 10-5 to meet Blake!
/
by angelap
https://www.blueridgehumane.org/wp-content/uploads/2018/11/46890420_2358613970857532_7646185459361513472_o.jpg
2048
1463
angelap
https://www.blueridgehumane.org/wp-content/uploads/2016/08/BRHS-Logo-01-1030x305.png
angelap
2018-11-30 08:57:57
2018-11-30 08:57:57
Meet Blake…