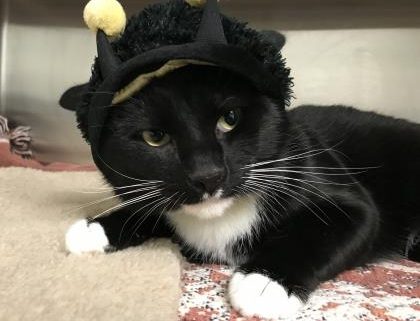 Today's Featured Friday Pet is Oreo!
What better kitty to feature on Black Friday than a handsome, nearly perfect tuxedo cat? Seriously guys, we can't stress enough wonderful guy 2 year old Oreo is. We figure we you may be reading a lot of reviews online today while you shop, so let us stay on theme and proceed with a formal appraisal of Oreo's many great qualities.
Snuggability: 5/5. Oreo served snuggles in a very timely manner. The snuggles were warm and delicious. When more snuggles were requested, he brought them out right away. 

Playfulness: 4.5/5. All toys were reliably played with, pipe cleaners being of particular interest. Minus half a star because he did not pick up his toys when he was done playing with them.
Attractiveness: Solid 5/5. Oreo is well-groomed and always ready for any formal occasion. Looks smashing in a bumblebee costume. Fur is of particular silkiness. 

Sociability: 5/5 Life of the party extrovert. Amenable to a variety of species. Talks a lot, but he's just so interesting.
Floppiness: 5/5. Came for the silkiness, stayed for the floppiness. His lack of bones is where this cat really shines.
Summary: They don't make them like this any more! Exactly what I was looking for! 5/5 Would pet again!

With a glowing review like that, why not add Oreo to your cart today? Please share, or better yet, ditch the mall and bring home the gift that keeps on giving: the love of a charming tuxedo cat. Oreo's adoption fee is only $20 for Black Friday Cuddle Busters
/
by angelap
https://www.blueridgehumane.org/wp-content/uploads/2018/11/db82e8bf-f889-4dd5-85d3-b4e59d223bd7.jpg
399
420
angelap
https://www.blueridgehumane.org/wp-content/uploads/2016/08/BRHS-Logo-01-1030x305.png
angelap
2018-11-23 14:13:16
2018-11-23 14:13:16
Meet Oreo…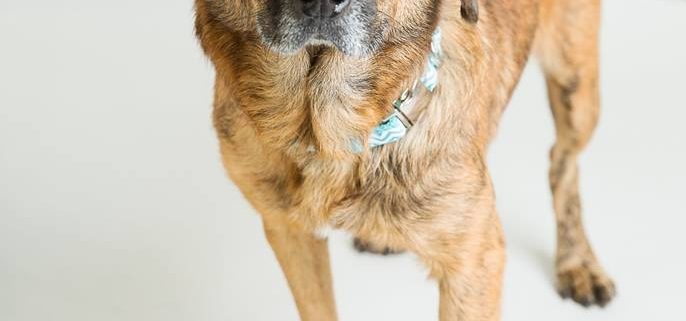 Today's Featured Friday Pet is Horsey!
We know, we know, don't ask us how such a cute pup ended up with a name like Horsey. Alas, we are accustomed to it, so Horsey he shall remain for now. At 26 pounds, this 6 year old pup is, what we call in the trade, a Smedium sized dog, the popular and oft-requested Not Too Big Not Too Small category. If Goldilocks were choosing a dog, we think she'd pick Horsey.
Horsey was found as a stray with another dog pal of his; no one ever came to claim him or the other dog, who has since found a new home. We can't explain how Horsey has already been with us three weeks, what with his quiet and gentle aura, aforementioned perfect Smedium size and puppy dog eyes that last for days.
Horsey is great in lots of other ways too. The way he keeps his kennel clean, you'd think he's expecting a date. He quietly and peacefully shares fencelines with other dogs and sweetly seeks affection without being annoying about it. His energy level is somewhere between a panda bear and millennial after a long workweek. Horsey is unfortunately positive for heartworms, so his adoption fee is waived and the cost of his treatment has been covered for the right home that can help him through his treatment (please keep your dogs on heartworm prevention, kids).
For more info on HW treatment and about this sweet pup in general, please give our adoption center a call at 828-685-7107 or email adopt@blueridgehumane.org.
/
by angelap
https://www.blueridgehumane.org/wp-content/uploads/2018/11/46237099_2338114272907502_2887396059426848768_n.jpg
960
686
angelap
https://www.blueridgehumane.org/wp-content/uploads/2016/08/BRHS-Logo-01-1030x305.png
angelap
2018-11-16 16:09:18
2018-11-15 16:11:38
Meet Horsey…

Today's Featured Friday Pet is Cheddar!
Friends, your job today is to find sweet Cheddar a home. Cheddar is a "rare" ginger female; you may have heard this before, but if we're honest we admit it's not that rare – about 1 in 5 orange kitties are female. That doesn't make sweet Cheddar any less special, however.
Cheddar as delicious as her namesake; a savory and mild little feline that pairs easily with many other "flavors." Cheddar is a bit shy at first, but exceedingly gentle; not a mean bone in her body does this kitty have. At around 2 years old, her playful side is sure to emerge once she is comfortable with her new family, and she seems amenable to other kitties as well. For some reason, Cheddar has been overlooked thus far, despite her pretty toasted orange coat and tender hearted demeanor. Cheddar would probably be happiest in a relatively quiet home with ample sunbeams and empty laps.
If you're looking for a quiet and lovely feline to complete your family, please stop by the Hendersonville PetSmart to meet Cheddar! Since she has already been waiting over 14 days for a home, her adoption fee is only $20. Please share!
/
by angelap
https://www.blueridgehumane.org/wp-content/uploads/2018/11/45688681_2328390420546554_4235084022985785344_o.jpg
1072
1500
angelap
https://www.blueridgehumane.org/wp-content/uploads/2016/08/BRHS-Logo-01-1030x305.png
angelap
2018-11-09 10:10:35
2018-11-09 10:10:35
Meet Cheddar…