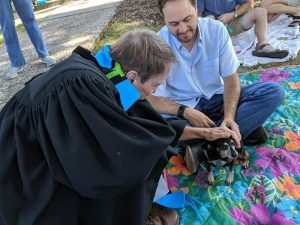 On Saturday, September 18, 2021, Mills River Presbyterian Church will host its 13th Annual Blessing of the Pets at 10am on the church grounds for all types of pets — dogs, cats, rabbits and any other pets people would like to bring.
The half-hour service celebrates the life of both current and former pets. Residents of Henderson County and throughout the Asheville are invited to bring their cherished pets to the outdoor blessing.
Recreating the Rainbow Bridge: New to this years' service will be the opportunity for people to remember and recognized cherished pets that are no longer with them. Brightly-painted rocks, created by the children of the church, will be available for people to write the names on of past pets. Then, the rocks may be placed under a "Rainbow Bridge" for the event. After the service, the recognition rocks will be relocated to a permanent memorial site on the church property.
As is the tradition with the event, each pet will receive their own personal blessing. Rev. Merriam Alexander, the dog mother to two Boston Terriers, will lead the service and offer the individual blessings. Special messages, prayers and readings will be shared during the service.
A free will love offering called the "Dog Bowl Donation" will be collected during the service to benefit the New Hope program at Blue Ridge Humane Society. People may also contribute canned or bagged pet food.
Mills River Presbyterian Church is located at 10 Presbyterian Church Road in Mills River off School House Road and accessible from Haywood Road or Highway 280. For more information, call 828-891-7101 or visit www.millsriverpresbyterian.org.