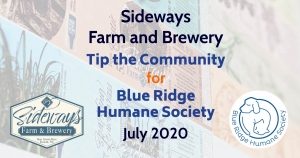 Visit Sideways Farm and Brewery as they donate tips all month long to Blue Ridge Humane Society!
Applies to onsite and online tips on orders if you prefer curbside pickup. order and tip online with curbside service.
Learn more about Sideways, a delightful farm and brewery located in scenic Etowah, here!
Hours:
Friday: 4-8
Saturday: 12-8
Sunday: 12-6