Honor mom and those with a mother's type of love in your life!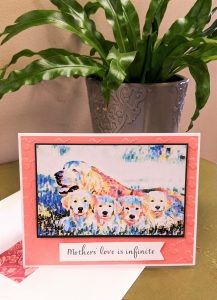 Purchase our one-of-a-kind card created just for Blue Ridge Humane by Cards for HVL Causes and we'll send it to that special woman in your life as a tribute to what she means to you while also supporting the animals in our care!
Cards are $15 each with all proceeds supporting the animals! A message inside shares that you've made a gift in their honor for Mother's Day and in recognition of their love for animals.
Order by Sunday, May 2nd. We'll mail it out for you.
*BRHS will mail all cards by May 3rd for arrival by Mother's Day but is not responsible for the speed of the postal service once dropped off.