Blue Ridge Humane is excited to start a new feature, Ask Crystal, where you can ask your pet behavior questions! You can submit your question for Crystal at the bottom of the page!
Hi Crystal,
My dog just loves her chew toys. The problem is that none of them seem to last longer than an hour or so. Do you have any recommendations for longer lasting chew toys?
Sincerely,
Getting Chewed Out of House and Home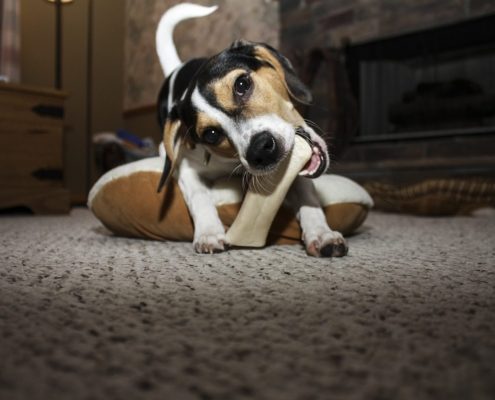 Hi Getting!
Your dilemma is one thousand of pet owners face daily. Dogs and especially puppies are much like human babies in that everything goes in their mouth first. Unlike human babies however, they have very sharp teeth and strong jaws which need to chew. For puppies, chewing can help relieve the pain of adult teeth coming in. Chewing continues to be important for adult dogs as well. Chewing keeps teeth clean and jaws strong which is pretty crucial to survival. It is no wonder dogs enjoy chewing on things! It is also a great stress reliever and can prevent unwanted destructive behavior.
Whether you are looking for an edible or non-edible chew toy for your dog, here are some things to consider.
Size 
The first consideration should be the size of the toy. Bigger is better as they say and this definitely applies to dog toys. We don't want Fido to swallow the toy whole or break it into chunks that he can choke on. The chew should be wider than his mouth.  The preferred method for chewing is from the side rather than top to bottom.
Material 
For non-edible toys you want to look for hard rubber designed for aggressive chewers. Thick rope can also be a good option. If your dog likes to swallow the little pieces of rope, it may not be a good option for them.  Stay away from nylon and plastic.
Edible Chews should not crack, split or break off in chunks. The dog should slowly wear the treat down from the end.
Here are my suggestions for a longer lasting chew experience for your dog. Keep in mind that every dog has a different chew style so you may need to experiment with what works for your dog.
Edible Chewing Toys: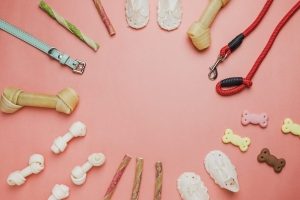 Bully Sticks are made from uncooked dried bull penis. If you can get past that fact, your dog will love you for getting these long lasting safe chews. I have yet to meet a dog that doesn't enjoy them.
Himalayan dog chews are a hard cheese snack made from yak milk. The dog sits and works on the chew to soften it up and eat little pieces off the end. It is a near perfect chew. There is little mess and low odor.
Rawhide-free chews, which are often made from vegetables like sweet potatoes, peas, carrots and chicken, are a safe alternative to rawhide.  They don't last as long as a traditional rawhide but are easily digested by most dogs.
Non-Edible Toys for aggressive chewers
Kong brand is a favorite among dog trainers for their durable rubber. Most people are familiar with the red Kong which is made for the average chewer. Kong also makes the Extreme rubber toys which are designed for determined chewers. I love these toys because many of them can be stuffed with food which makes them even more enticing. See next week's question for more on this topic!
Goughnuts is a brand of dog toys designed specifically with the aggressive chewer in mind. They have a number of products which contain a red safety indicator layer that if your dog reaches you can send it back for a replacement.
West Paw has a line of durable chew toys called the Zogoflex.  These toys are tough and they have different varieties of toys for moderate to tough chewers. I have seen some really big dogs go after these toys and they really hold up. They also have food dispensing toys so a double win in my book!  If you aren't thrilled with any of their toys, they offer a love it guarantee. If you don't love one of their products they will replace or refund. You do have to keep the receipt though.
Antlers, horns and hooves have gained in popularity among dog owners. However,  there is some concern among veterinarians that these treats are simply too hard for your dog's teeth. A good rule of thumb is if you can't indent the treat with your nail, it is probably too hard.
Please remember that no chew toy is indestructible. You should monitor your dog with any new toy to see their chew style. Do not leave your dog unattended with a new toy. When a product looks damaged or small enough to swallow you should take it away from your dog.  A dog has probably swallowed pretty much everything at this point so always be on the cautious side with any toy.
Until next time,
Crystal
https://www.blueridgehumane.org/wp-content/uploads/2019/02/dog-963970_1920.jpg
1000
1500
Laura Rice
https://www.blueridgehumane.org/wp-content/uploads/2016/08/BRHS-Logo-01-1030x305.png
Laura Rice
2019-02-11 11:57:59
2019-02-11 11:57:59
Ask Crystal: Our New Behavior Q&A!