Blue Ridge Humane Society Closed July 4th

The Blue Ridge Humane Adoption Center will be closed on Saturday, July 4th for the Independence Holiday. We will resume normal hours on Tuesday, July 7th. The Adoption Center is currently open Tuesday-Saturdays, 10am-5pm, with adoptions by appointment only via our Contact-less Adoption Procedures.  The Thrift Store will reopen as regularly scheduled on Tuesday, and is currently open Tuesday-Friday, 10:30am-4:30pm.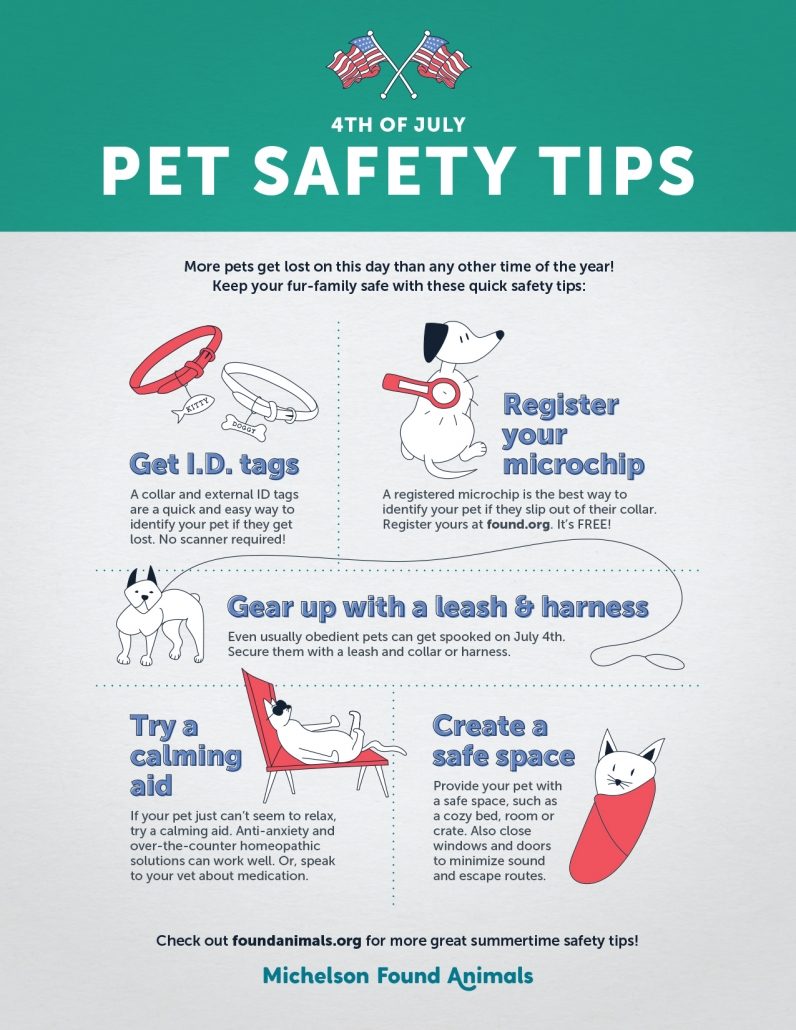 Prepare ahead of time
Ensure that your pet is microchipped in case they do get out and lost during the hubbub of the holidays' events. If your pet is already microchipped, check to make sure your contact info is up to date on the registration using a resource like foundanimals.org to update your info regardless of the microchip company.
Keep a collar and ID tag on your pet. Always walk your dog with a collar or harness that won't slip off. ID tags should contain your name, address, and phone number.
Secure your home and yard. Fix gaps in fences, secure windows, and make sure doors close properly.
Take a current photo of your pet, just in case.
If you're travelling out of town for the holiday, consider leaving your pets at home with a pet sitter or boarding them in a kennel. If you need to bring them with you, be sure you know how to keep them safe.
Day of
Exercise your dog early in the day before parties begin.
Leave gentle music on while nearby fireworks go off to help soothe your animal and leave a frozen stuffed treat like a Kong for your dog to play with as a distraction.
Keep pets indoors. Even at home, an anxious dog or cat may make a break for it and run after being frightened by the noise of fireworks or confusion of a backyard party and new, strange people. The safest place for your pet is inside with you.
Keep party supplies like sparklers, glow sticks, fireworks, charcoal and cooking supplies away from curious pets and don't let pets get near your grill while it is in use or still hot.
Avoid the urge to feed your pets table scraps or other foods intended for people. Be especially careful to keep them away from these common foods that are actually toxic.
Remember that too much sun and heat (and humidity!) can be dangerous to pets. Keep them inside when it's extremely hot/humid; make sure they have access to shady spots and plenty of water when outdoors; don't leave them outside for extended periods in hot weather; and know the signs that a pet may be overheating.
Never leave your pet in your car when it's warm outside. Vehicle interiors heat up much faster than the air around them, and even a short time in a locked car can be dangerous to pets.
We hope you and your pets have a safe and fun day. For resources and ideas for pet safety, lost and found procedures, and more, visit our Resources page!
https://www.blueridgehumane.org/wp-content/uploads/2020/06/july4ibfographic.jpg
1650
1275
Laura Rice
https://www.blueridgehumane.org/wp-content/uploads/2016/08/BRHS-Logo-01-1030x305.png
Laura Rice
2020-07-01 08:00:32
2020-06-30 15:14:59
Blue Ridge Humane Society Closed July 4th