3rd Annual Pup Crawl
Saturday, June 24th, 2023
12:00 PM – 5:00 PM
Dog owners and pet lovers tour the Historic 7th Avenue District businesses and participate in the Historic 7th Avenue District Pup Crawl benefiting Blue Ridge Humane Society. Each stop will feature a pet giveaway or treat and an interactive activity hosted by a local pet-centric business.
NEW THIS YEAR! A Pet-Centric Vendor Fair will be located on Barker Street for all Pup Crawl attendees to visit! Additional parking is available in the St. James Episcopal Church parking lot.
2023 Pup Crawl Stops and Activities:
Support our amazing hosts with a beverage or gift card purchase during the event!
Here are just a few of the vendors that will be at our pet-centric vendor fair during Pup Crawl:
Canine Therapy Partners WNC
Hendersonville Kennel Club
Hendersonville Police Department
Hendo Dogs Training
JSN Photography
Sage Pet Hospital
How it Works:
Purchase your pupport online, over the phone at (828) 692-2639, or the day of at the Blue Ridge Humane tables at any of the stops.
Pupports are available 1 per dog or family and include pet treats (if you bring your pup) and access to a variety of activities just for the canine brewery and bar visitors. You can also participate without a pup so bring your favorite brewery buddy along!

Ticket sales – Open May 1 – June 23 – $15 for one pet/$30 for multiple pets
Day of registration – June 24 – $20 for one pet/$40 for multiple pets

Check in at the Blue Ridge Humane table at the vendor fair on Barker Street and receive your Pupport!
As you stop for a drink and an activity, make sure to get your Pupport stamped at each bar. Once you collect all the stamps, check back in at the Blue Ridge Humane table at the last location you're at and enter for the Grand Prize drawing with tons of swag and goodies from our hosts for you and your pup!
Are you interested in being a vendor for our pet fair?
Limited spaces are available! We encourage all pet industry-related businesses to participate in our pet vendor fair. Sign up now to reserve your spot to become a vendor or sponsor for this event!
Vendor Info –
When: Saturday, June 24, 2023 from 12-5pm for the activities and vendor fair
Where: Barker Street located off of Historic 7th Avenue in Downtown Hendersonville
Who: Event participation is open to individuals, non-profits, and businesses without a political affiliation (ex: political candidates, parties, or clubs). Blue Ridge Humane Society further reserves the right to refuse vendors who do not align with our mission or core values.
Booth Space: $100.00 Includes event promotion of your presence at the festival. Sponsorships that include vendor space are available as well!
Space: 10×10 located on the street, the city has permitted the street to be closed for this event. Power is not available unless you provide your own generator. Please be sure to bring your own water if needed, there is not access on the street.
Set-Up: Set up your space between 11am-12pm, with an event start time of 12pm. The activities and vendor fair access will begin at 12pm. All tents must be anchored with weights at a minimum. Tent stakes are also recommended. Tents must be CSFM or NFPA approved.
Booth Assignments and Day of Info: Booth assignments, parking info, and day of info will be sent to all paid vendors by June 16th.
Blue Ridge Humane Society reserves the right to refuse vendors who do not align with our mission or core values.
All vendors are encouraged to host an activity or have giveaways at their table/tent during our pet fair. Please contact Laresa Griffin, lgriffin@blueridgehumane.org, if you have any questions or issues signing up.
Pup Crawl Shirts
Pup Crawl T-shirts are available for purchase starting May 2 – all pupport pass holders will receive a 10% off discount for T-shirts in their confirmation email after buying their pupport. Please be sure to order your T-shirt 2-3 weeks prior to the event so they have enough time to ship to your home. View online store here. Examples of shirt options below:
FRONT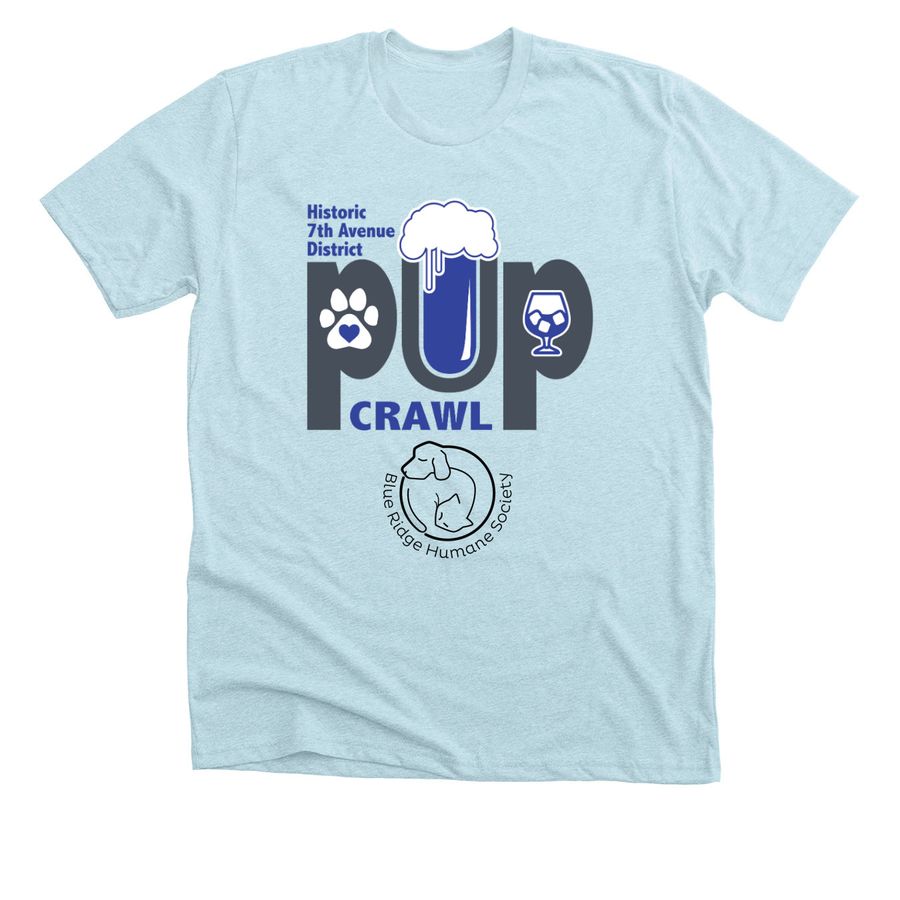 BACK