Titan's Tales and Other Dog Adoption Love Stories Book Signing
Titan's Tales and Other Dog Adoption Love Stories'
author, Julie Chalpan, will be atÂ
Henderson County Animal Services
(HCAS), located at 828 Stoney Mountain Road in Hendersonville on
Friday, October 7 from 2 – 4 p.m. and Saturday, October 8, from 11 a.m. – 1 p.m.
to sign her book. This event is also a fundraiser for the Spay and Neuter Assistance Program (SNAP) at HCAS, as a portion of the proceeds from each book sold these days will benefit the fund.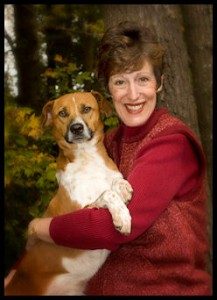 Titan's Tales and Other Dog Adoption Love Stories
pays tribute to shelter dogs, their caregivers and their new families. Hilton Head Island, SC resident, Julie Chalpan (along with her husband, Keith), adopted Titan, now 15, a Jack Russell/beagle mix, thirteen years ago from a shelter near Atlanta, Ga. Chalpan talked with people from all over the country who have adopted shelter dogs, including Henderson County Animal Shelter volunteer and Mills River resident, Kathy Ziprik. Ziprik's three dogs, Abby, Emma and Lacey are featured in the book. Lacey, a basenji mix, was adopted by Ziprik from HCAS a couple of years ago. In total, these 39 heartwarming stories, including Titan's and Lacey's, make up Titan's Tales. "This is a real labor of love for me,†says Chalpan. "As Titan gets older, it became more and more important for me to write down his stories, and I thought it would be great to share others' stories of how they were rescued by their dogs and the whole adoption experience." It quickly became a family project, as her husband, Keith, designed the book, her mother, a retired school teacher, helped with the editing process, and most importantly their dog, Titan, is the lead chapter. Chalpan has been volunteering with local shelters and dog-related groups in Beaufort County, SC for more than a year now. Before that, she was a supporter of the Gwinnett Humane Society from where they adopted Titan. Titan was rescued by this no-kill shelter on his "kill day†from an animal control facility in north Atlanta. The Chalpans are still in touch with the volunteer who rescued him that day, and in fact she wrote the foreword for the book. "We are so grateful for Titan's rescuer and thankful for all of the people who work tirelessly to save these wonderful dogs,†said Chalpan. "The unconditional love and pure joy a dog can bring to you and your family is not to be missed, and I am blessed to have Titan in my life.†When Chalpan isn't writing books about dogs or playing with them, she runs her national public relations firm, Focus Unlimited PR. For more information on Titan's Tales and Other Dog Adoption Love Stories, please visitÂ
www.titanstales.com
.  A portion of each book sold goes to help local shelter groups.
https://www.blueridgehumane.org/wp-content/uploads/2016/08/BRHS-Logo-01-1030x305.png
0
0
meow_admin
https://www.blueridgehumane.org/wp-content/uploads/2016/08/BRHS-Logo-01-1030x305.png
meow_admin
2011-09-25 17:54:29
2016-07-28 16:59:43
Titan's Tales and Other Dog Adoption Love Stories Book Signing