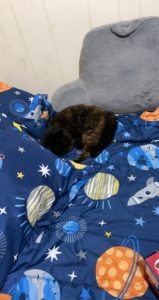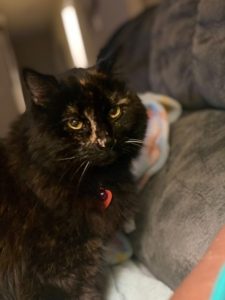 Honey Bear won over our hearts at the Adoption Center with her sweet disposition and beautiful long fur!
We loved getting this follow up from her new family:
"We have had Honey Bear in our home for 2 weeks now. This is the first time we have adopted with BRHS. Honey Bear has taken over the house and knows that we cater to her every need. We slowly introduced her to the house. Putting all of her things in room then slowly bringing them out and putting them in other places for her to get familiar with. We do not have any other pets, at the time. We have a 12 year old son and he absolutely loves Honey Bear and one of her favorite spots is in his room. I believe everyone's favorite thing about our fur baby, is she always has to sleep with us. We wake up at all hours of the night with the tap of her paw on our face because she wants to be petted or she'll jump on the couch and paw our hands/arms to let us know she wants to be petted. We also have her cat nip in a little container and when she hears the container lid open, she comes running down the hallway. She does still wear her collar in the our home, she will not let anyone take it off. The most helpful part of the adoption experience was everyone being so sweet and giving us so much information about Honey Bear before we left. There are no concerns at this time. Honey Bear is doing great and we've got her established with a vet and is having the best life doing as she pleases."
Thank you Erin for giving Honey Bear a home of her own! Happy Tails, Honey Bear!
https://www.blueridgehumane.org/wp-content/uploads/2022/04/Honey-Bear-2.jpg
2208
1170
angelap
https://www.blueridgehumane.org/wp-content/uploads/2016/08/BRHS-Logo-01-1030x305.png
angelap
2022-04-05 08:32:55
2022-04-01 12:40:10
Honey Bear's Happy Tail