Blue Ridge Humane Society operates a pet food assistance program as part of our Community Outreach. Partnered with local food banks the program provided over 19,000 lbs of pet food in 2019 for distribution to pet owners in addition to their usual staples. With the program already in place it was no surprise to see an increase in demand due to the effects of COVID-19 in our community. But we were ready.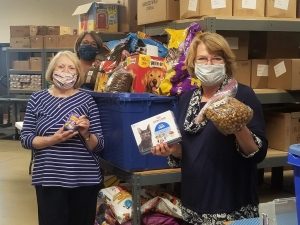 Interfaith Assistance Ministry (IAM), provides temporary relief to those in financial crisis. IAM saw a need increase of 80% for services at the onset of COVID-19. Out of the clients receiving food support, 60-70% include requests for pet food. Elizabeth Moss, Executive Director of IAM, shared they used to encourage clients to find new homes for their pets if their pet care expenses amount was way out of balance on the required intake budget worksheet. However, with our program in place, they are now able to give clients pet food and help with that expense. "We are grateful for our partnership with BRHS. It is a real blessing to be able to offer pet food and be sure clients are able to keep their pets, especially in these difficult times." Often times, clients would share their human food with the pets if they don't have pet food to keep feeding their pet, so being able to provide pet food for those that need helps IAM meet the needs of pets and humans alike.
The effects can be seen firsthand. One family receiving assistance from IAM has a mother with MS and was unable to work. The father lost his job in sales when the COVID-19 restrictions started. He applied for a position at a local pizza restaurant and was hoping to have some source of income through this time. They have visited IAM for rent assistance and food. They have two children at home and a dog named "Tank." It's not only the kids who love and need Tank, but the adults, too. Tank means everything to them and they would never want to give him up. They were very appreciative of the dog food IAM gave them with their people food to help them through this rough spot. With no income right now, they don't know how they could have fed Tank and also had enough food for the family, but thanks to BRHS and IAM they don't have to choose between feeding themselves or Tank.
Blue Ridge Humane also partners with The Storehouse, who works to provide food and life's most basic necessities for those in need in Henderson County. Many of their clients have animals as their only companions and they refuse to let them go hungry. Clients like Evelyn receive food from The Storehouse and was thrilled to know they were also able to give her food for her family, her rescued kittens and puppy. She was grateful for the blessing of pet food from BRHS.
When you support Blue Ridge Humane you are also helping those in need all across our community. To donate today, visit www.blueridgehumane.org/donate to ensure these programs continue to serve those that need it the most.
https://www.blueridgehumane.org/wp-content/uploads/2020/09/IAM-041620.jpg
1125
1500
angelap
https://www.blueridgehumane.org/wp-content/uploads/2016/08/BRHS-Logo-01-1030x305.png
angelap
2020-09-09 12:48:57
2020-09-09 12:48:57
Pet Food is a Lifeline