Tips for a Safe 4th of July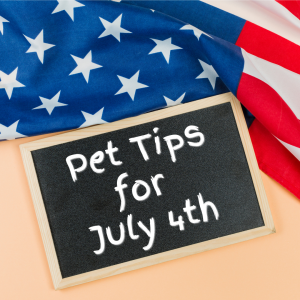 The 4th of July may be a fun holiday for some, but can be a tough one for our pets between activities and gatherings, hot temperatures, and of course, fireworks. The holiday unfortunately results in more pets being lost between July 4th-6th than at any other time of the year.
To help your pet out this year, here are some ways to keep your pet safe this Independence Day.
Check your doors, windows, and fences to make sure everything is secure.
If out and about during the day, make sure your pet stays hydrated and doesn't experience heat exhaustion. Animals should be left in the shade and given plenty of water. They should also be kept away from non-pet food and drinks that are typically found at cookouts and picnics.
Make sure your pet has a safe space in your house that allows your pet to hide. Basements and bathrooms are great since they usually will muffle outside sounds. Have their favorite things in the area like bed and toys.
Use natural remedies for easing anxiety. If you have a diffuser, try some soothing lavender oil. Flower essence remedies such as Bach Rescue Remedy are very popular and safe. However, most people don't dose often enough. Pets need to receive it 4-5 times a day for a few days for it to be effective. For cats, try catnip toys and Feliway to help keep them calm.
Be sure your pet's tags are visible and up to date, and that most of all, are worn all the time! If your pet has been micro-chipped, make sure the microchip is registered with the correct information. You can visit Petmicrochiplookup.org and see if the number is registered and with what company. Contact that company and make sure the contact information is correct.
Update your registration information ASAP with the registry. Go to Foundanimals.org and update there – ANY chip can be registered immediately online for free. Add a second contact in case you are not available if your pet is found.
Take a current photo of your pet, just in case.
Register your pet on FindingRover.com to help with facial recognition if they are lost and end up in a shelter.
Exercise your dog early in the day before parties begin with walks and lots of playtime.
Have enrichment feeders or toys ready, like a Kong filled with frozen treats to distract your dog during loud music or fireworks shows.
Try to drown out the noise of the fireworks with television, white noise machines, or music. There are a lot of great calming stations for dogs on music streaming apps like Spotify. Classical music has been found to be calming during stressful events as well as reggae and soft rock. If you use music a lot with your dog, it is important to switch it up or it just becomes background noise.
If you do lose a pet:
Conduct a physical search ASAP.
Text 883-786-0730 to immediately start receiving text messages to help find your lost pet from our Lost & Found Helpline.
If lost and you live in Henderson County, call Henderson County Animal Services at 828-697-4723. They will have you fill out a Lost Animal Report. If your pet was found as a stray, they will most likely end up at the county shelter. You may also visit their Stray Animals Search to see if your animals is listed.
Make a flyer with a current photo, the animal's name, age, breed, size, color, markings, last seen location, and the date they went missing. If they were wearing a collar, include its color and any tag information.
Be sure to contact local vet offices.
Notify friends, neighbors, local businesses in the area where your pet went missing.
Submit your found or lost pet to the WTZQ Pet Patrol
Post a photo and description in our BRHS Lost and Found Pet Spotter
Check out more resources and ideas for recovering your lost pet here or what you can do if you find or spot a pet that appears to be lost.
https://www.blueridgehumane.org/wp-content/uploads/2021/06/Pet-Tips-for-July-4th.png
1080
1080
angelap
https://www.blueridgehumane.org/wp-content/uploads/2016/08/BRHS-Logo-01-1030x305.png
angelap
2021-06-28 14:17:17
2021-06-28 14:17:17
Tips for a Safe 4th of July