Today's Featured Pet is Boo Boo!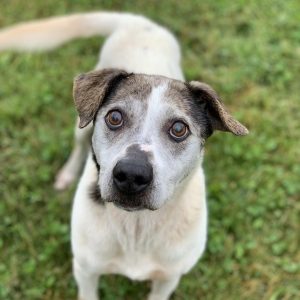 Boo Boo has one of those faces that just makes you melt! If his name wasn't enough to do that this beefy boy made his way to us after suddenly becoming homeless. He was from a home with another dog that was older and may prefer being around more chill, independent dogs. He's very friendly when meeting new people and is a bit of a snorter so don't mistake him for a pig. Boo Boo seems like a pretty mature guy that isn't going to be very needy in a home. He does enjoy being scratched and told how handsome he is! He is a low to medium energy level that doesn't seem phased by much. Boo Boo is interested in treats but if the "work" is too hard or time consuming, this lazy guy will lose interest quick! Here is what his foster has to say about him:
"Boo Boo is an outdoorsy guy. When we first brought him home and he was feeling uncertain about things, he was still very comfortable outside, snuffling around the yard. He's always up for a walk and loves to sniff everything, and pee on most of it. He's also a post-pee scratcher/digger, so keep him away from carefully tended garden areas…or get him to help!
Indoors, Boo Boo is a very polite guest. Despite his love of scent marking outdoors, he has had no indoor accidents at all. He has not shown any destructive behaviors, staying in a room by himself at night and settling in quickly when his human leaves the room. If agitated (or if he sees something important out the window), he whines with little half-barks, rarely giving a full-throated bark. If he does decide to bark, he is good about chilling out when asked to settle down.
His shining moment came when one of the household cats hopped unexpectedly into the room through a window. Boo Boo was napping and while he woke up and saw the cat, he didn't bark, growl, or even get up while the cat was ushered out of the room. He earned himself a treat and a lot of praise for that one! Boo Boo will never say no to a treat or a bite of your snack, and he gets excited when food is brought into the room, but he's pretty quick to settle down and let you eat nearby, without getting in your face (or your plate). He takes treats politely if you decide to share. Boo Boo polishes off his own meals in one sitting, but is patient about waiting for the kibble to be served, and sometimes actually waits to be invited to his own food dish.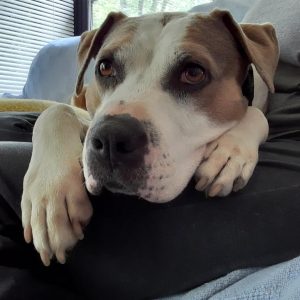 Once comfortable in the home, he is equally likely to doze off on the couch, sack out on a cushy comforter on the floor, or just plop down on the bare floor for a nap. Boo Boo is fairly independent, but does like having his person around. If you call him over, he'll come and stand nearby for some butt scritches. He wags his tail to say hi in the morning, and may roll over for some quick belly or chest scratches before getting up for his walk. When lounging on the couch together, he may lay his head on your knee for a little nap.
Boo Boo seems to know Sit, and sometimes lifts up a paw to shake (although not on command). Once, when he was excited by a treat, he not only sat, but then sat up and begged — pretty hilarious on such a stocky, serious guy! Boo Boo will love a home where he can spend plenty of time outdoors and take lots of naps inside, in between being told what a good boy he is. He might need a day to adjust to change, but once settled in, he's a pretty chill guy, a great couch buddy, and just generally easy to be around.
Couple small additions to Boo Boo's info:
He met some children this week, one about 10 and a tiny girl maybe 3 years old. The children knew how to meet a dog properly, and Boo Boo did very well, sniffing and wagging but not getting over excited. He has just really been happy to meet everyone he has come across.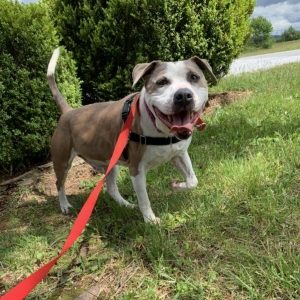 He really seems to love riding in the car! When we first came home from BRHS, he was very anxious and whined a lot, but now that he's been in the home for a week, when we went for a drive he got really excited, panting and sniffing out all the windows and trying to climb into the front seat. Equally excited to ride home again after!
If you are looking for a more laid back, independent guy then Boo Boo can't wait for you to gaze upon his chonk-itude!
If you are interested in learning more visit our website and click on the photo of the animal you are interested in at www.blueridgehumane.org/adopt. Our Adoption Counselors will reach out with more info and the next steps! The Adoption Center is operating by appointment only. If you have questions, email help@blueridgehumane.org.
https://www.blueridgehumane.org/wp-content/uploads/2021/06/BRHS-A-8037-6.jpg
1024
1024
angelap
https://www.blueridgehumane.org/wp-content/uploads/2016/08/BRHS-Logo-01-1030x305.png
angelap
2021-06-02 12:15:45
2021-06-14 16:19:05
Meet Boo Boo – Adopted!