Cold Weather Care for Your Pets

Keeping Pets Safe as Temperatures Drop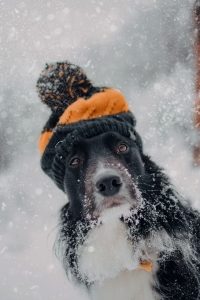 With colder temperatures and the winter season closing in, it's a good time to review how you care for your pets during the cold! The ASPCA recommends the following:
Bathe your pets as little as possible during cold spells. Washing too often can remove essential oils and increase the chance of developing dry, flaky skin. If your pooch must be bathed, ask your vet to recommend a moisturizing shampoo and/or rinse.
Massaging petroleum jelly or other paw protectants into paw pads before going outside can help protect from salt and chemical agents. Booties provide even more coverage and can also prevent sand and salt from getting lodged between bare toes and causing irritation. Use pet-friendly ice melts whenever possible.
Like coolant, antifreeze is a lethal poison for dogs and cats. Be sure to thoroughly clean up any spills from your vehicle, and consider using products that contain propylene glycol rather than ethylene glycol.
Pets burn extra energy by trying to stay warm in wintertime. Feeding your pet a little bit more during the cold weather months can provide much-needed calories, and making sure she has plenty of water to drink will help keep her well-hydrated and her skin less dry.
Make sure your companion animal has a warm place to sleep, off the floor and away from all drafts. A cozy dog or cat bed with a warm blanket or pillow is perfect.
An important rule of paw to keep in mind… if it is too cold for YOU outside, it is too cold for PETS. Henderson County residents should report all abuse/neglect calls to the Animal Enforcement division of the Sheriff's Department at 828-697-4912. When filing a report with the Sheriff's Department, make note of as many details as possible including date, time, and location. Check out our website for a listing of the laws in NC pertaining to animal abuse/neglect. The more you know, the more you can be their voice.
https://www.blueridgehumane.org/wp-content/uploads/2020/11/dog-snow5635892_1280.jpg
1280
853
angelap
https://www.blueridgehumane.org/wp-content/uploads/2016/08/BRHS-Logo-01-1030x305.png
angelap
2020-11-20 17:28:15
2020-11-20 17:28:15
Cold Weather Care for Your Pets