Staff Stories: Ali Conrod, Quality Care Manager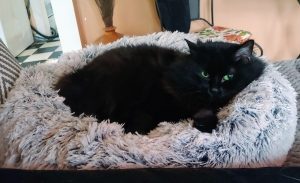 Welcome to our series featuring the people and pets of Blue Ridge Humane! Today we share the adoption story of Fawn Horton and Eevee, a puppy at the Adoption Center.
Hi, my name is Alli and I'm the Quality Care Manager at BRHS. I started as a part time animal care attendant in 2015. One of my main duties at the time was taking care of the adoptable cat and kitten rooms at the adoption center. That's where I met a beautiful floof ball named– Sassy. She was brought into BRHS after her caretaker at the time was moving and was no longer able to care for her.
She didn't arrive solo, she was stuffed into a guinea pig cage with her four big headed adorable kittens.
I was new to the animal sheltering world so I was having a hard time not falling in love with every creature that walked through our door. But it was Sassy who realllllly stole my heart. First of all, she's totally my type. While I was new to the animal sheltering world, I was not new to the taking home everything that needed me world so I already had a pack of three female black kitties that I thought she would make a great addition to. Second of all, I've always had a soft spot for mama cats (and mama dogs). Sassy's kittens were so stinkin' cute and friendly, they had no problem finding homes as soon as they were made available for adoption but she had to wait a little longer before finding her family. In retrospect, I'm grateful she wasn't scooped up as quickly as her babies were because it gave me time to get to know her and really develop a special bond.
I have no idea why her previous home named her Sassy, she literally doesn't have a sassy bone in her body. She is the most affectionate cat I've ever met, she greets anyone who comes to our home whether they are a person, a foster kitten, or a new dog, everyone is a friend to her! If she isn't on my lap, she's sure to be snuggled up to one of her siblings.
I've especially appreciated Sassy's affection and beaming personality recently. Her "nothing gets me down" attitude is truly inspiring especially during hard times! She's ensured to keep her spirts up even through this crazy year and has been kept my lap warm on every Zoom call. I can't imagine our house without her and am so grateful BRHS brought us together.
Thank you Ali, for welcoming Sassy into your life!
https://www.blueridgehumane.org/wp-content/uploads/2020/11/queeeeen-sassy.jpg
782
1280
Laura Rice
https://www.blueridgehumane.org/wp-content/uploads/2016/08/BRHS-Logo-01-1030x305.png
Laura Rice
2020-11-19 13:05:01
2020-11-19 13:05:01
Ali's Blue Ridge Humane Adoption Story