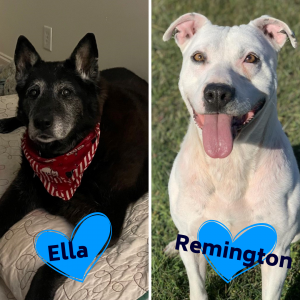 Rehoming Leads to More than Second Chances
Cynthia adopted Remington from us last year, but it was her rehoming experience that led her to not just one amazing dog, but two.
About 4 years ago, Cynthia had adopted Ella from the rehoming section on our website. Ella had been transported from the Louisiana after a flood by a lovely lady who believed Ella would be a good companion for her dog. Sadly, the two dogs didn't get along, and Ella was listed on the rehoming site so she could avoid being placed in a shelter while she waited for a better match. Cynthia had always adopted older dogs, and Ella stood out to them on the rehoming listing, since she needed to be on medication and was a black dog, which sometimes take longer to adopt out.
Cynthia was glad that there was a lot of information about how Ella behaved since she had been living with her original owner. All of the insight help Cynthia integrate Ella into her home. She shares, "Ella was a great dog and one thing I do know about adopting older dogs, they know they were saved. She had a great life with us for 4 years and was a great pleasure in our lives."
Cynthia shares her tips for helping bring a rehomed dog into your life successful:  
Pick a dog that you can handle physically. For example we have always liked big dogs but we are getting older.
When you bring new pets into your home make sure they always feel safe.
Be patient with them because they might have had a lifetime of different commands.
It also takes time for them to be part of your routine and keep a routine with the new pet.
Learn the signals for when they need to go out because they want to please you.
Do not just get a dog because you think they are cute but that their behavior will fit your personalities.
Ella lived out her life surrounded by love. After she passed, Cynthia returned to Blue Ridge Humane Society in search of an older dog who needed a little extra TLC and found smiley boy Remington. Since Remington had been staying with one of our fosters, Jennifer, Cynthia was able to get in-depth info about Remington's personality, behavior, and more, helping to smoothly integrate him into his new life as a part of Cynthia's living family.
Thank you Cynthia for giving both Ella and Remington a happy, loving home! No matter where you adopt from, if it's with intention and love, you are giving an animal their best life!
https://www.blueridgehumane.org/wp-content/uploads/2021/04/Ella.png
1080
1080
Laura Rice
https://www.blueridgehumane.org/wp-content/uploads/2016/08/BRHS-Logo-01-1030x305.png
Laura Rice
2021-04-19 13:39:54
2021-04-19 13:39:54
Ella's Rehoming Happy Tail