Volunteers Step Up In New Ways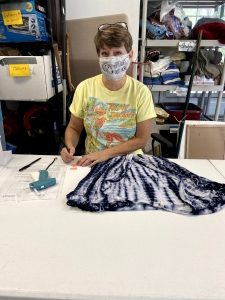 Volunteers Fill New Roles and Help Out with Huge Impact
When you think of volunteering at Blue Ridge Humane Society, what usually comes to mind are visions of the happy hustle and bustle at the Adoption Center as volunteers come and go after completing tasks like walking dogs, cuddling cats, making toys, passing out treats, cleaning, and organizing shelves. However, the role of the volunteer at Blue Ridge Humane has always extended well beyond that scope, including the dedicated Thrift Store volunteers filling regular shifts as cashiers, sorters, pricers, and stockers, with more dependability than you typically find in the retail industry!
March 2020 brought the activity to a screeching halt as the coronavirus creeped into our community. From the onset, ensuring a safe working environment for our volunteers has been a priority in our response and operational changes due to COVID-19. Current shifts were suspended as the Adoption Center and Thrift Store closed to the public.
While it seemed like the world hit pause, our work never stopped. New protocols were created, safety net programs became even more vital, and plans were developed to welcome volunteers back, albeit in very different ways than before.
Community Programs saw exponential growth almost immediately in the skyrocketing needs of our local pets. Through programming and support services, we try to help keep pets in their loving homes. One way we can do this is through pet food assistance. Blue Ridge Humane was already providing pet food to food pantries pre-COVID, but in 2020 demand increased by 37%.  We also added drive-up pet food giveaways that provided food to 2,872 animals! However, that's a lot of pet food to prep for distribution. Initially, Megan, our Community Outreach Manager, gathered and re-packaged food into individual gallon-sized bags labeled with information about our programming. However, as the demands increased, not only for food assistance but for other community programs, help was needed.
Ensuring that we create a safe volunteer environment in the midst of COVID is forefront in current volunteer programming. This is practiced through mask requirements, sanitization stations, ensuring proper spacing, small work groups, and limited contact. To provide a safe volunteer opportunity that met a huge need, the Kibble Crew was created! The crew initially started as one group of 5, bagging and labeling food for distribution on a weekly basis. Towards the end of the year, we had to add on another day in the month and starting in 2021, two more days a month were added to help keep the pet food assistance program keep up with demand.
Kibble Crew volunteer Dianne had started as a dog walker in January 2020, but only got a couple of shifts in before the COVID closure. When new volunteer positions opened up in the summer she jumped at the opportunity, ready to break the monotony that so many of us have felt. "For me, food bagging was immediately satisfying, simply because I felt I was finally doing something productive after so many months of idleness," says Dianne.
As programs reopened, the Spay Neuter Incentive Program felt the pressure of working through the backlog of spay/neuter surgeries that had been postponed in the spring, as well as the continuous request for new appointments. Schedule adjustments and usage requirements for the clinic the program uses further added complexity and overloaded staff. In the past when SNIP needs were posted, the positions were overlooked in favor of other volunteer roles at BRHS. This time however, when the plea for help went out, several volunteers stepped up big time, and with three regular positions filled, staff has been able to allocate the needed time to work on the backlog that was created from the COVID shut down because of the tasks volunteers are now completing.
Megan shares, "I personally cannot thank all of our volunteers enough for everything they have done this year. I have had the opportunity to work with more volunteers than I ever did before COVID and the support that I feel from this amazing community of people makes such a huge difference in my day. The dedication, compassion, and positive attitude are an inspiration to me. Thank you, thank you, thank you!"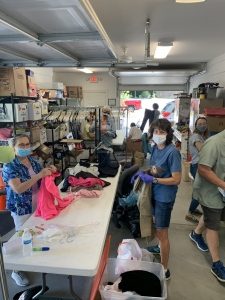 Volunteers at the Thrift Store didn't escape the changes either. While many of the new roles could be completed outside or at spaced out workstations, limited space at the store along with the number needed to operate the store presented challenges. The Thrift Store is an incredible example of the power of our volunteers—the store is almost entirely volunteer run! So once again, we got creative and put out the call to help fill regular and new positions that our COVID procedures required. Volunteers who had traditionally walked dogs helped direct traffic during donation drop offs. Volunteers who helped with events stood at the door, helping track occupancy and kindly enforce mask wearing. New volunteers came on board to fill newly open hours due to canceled events, trips, and more.
Kelly had several regular volunteer shifts that focused on canine care and enrichment at the Adoption Center, but was open to jumping into wherever there was a need. "This experience opened my eyes to so many areas outside of animal work where I could contribute and still add value. And who knew pricing parties at the Thrift Store could be so much fun!" said Kelly.
Fostering has always been an important part of animal care. It gives an animal a break from the shelter environment, provides extra attention to help with medical treatments or recovery, allows staff and future adopters learn more about each animals personality though their interactions with the foster, and in the case of neonates, literally saves their lives until they are big enough and strong enough to be adopted or enter the Adoption Center.  Like shelters across the country, BRHS scrambled to get all of our animals adopted or into foster homes knowing that stay at home orders were coming soon and our capacity to care for animals at the Adoption Center would be drastically reduced. Our call for fosters was easily met at the onset and it was exciting to see so many fosters become official members of their new foster families!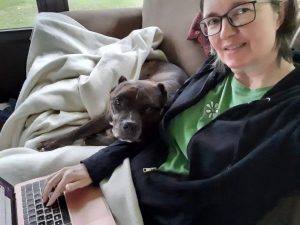 As time has passed, our foster families have grown, allowing BRHS to have on average 70% of animals in foster at any given time. The increase in new fosters joining our current fosters has had some unforeseen effects. In 2020 the rate of return after adoption dropped by 73%. Because fosters can learn so much more about an animal, that knowledge in turn is passed on to the adopter, resulting in a better fit between animal and family and smoother transition into the home. The 113 amazing fosters in our program volunteered the equivalent of 8 full time staff positions, furthering our ability to continue to rescue animals and help them on their journey to a new life.
Not all volunteer positions required volunteers to leave their homes or work in groups. Tasks like word processing and data entry assist with the less than exciting but important task of program record keeping. Volunteers also filled roles to socialize and clean the cat condos at PetSmart, which gives both cats and volunteers some one on one time. BRHS also introduced the Fear Free certification program in 2020, that provides free training to improve the emotional experiences of animals by applying key strategies and techniques designed to reduce the negative emotional states that are commonly experienced by shelter and rescue animals, including fear, anxiety, stress (FAS), and frustration. In addition to Adoption Center staff, 14 volunteers completed the 8 hour online training program, increasing their pet welfare knowledge and preparing for the time when we are able to open up volunteer positions that interact with animals in our care on a regular basis.
The only way we've been able to continue to serve so many is due to the generosity of you, our donors, and the work of volunteers to get the nitty gritty done in new ways. The thought of bagging pet food, cleaning carriers, imputing paperwork, round-the-clock kitten feedings, or greeting at the Thrift Store may not have the appeal of walking a dog, but the impact of these and other newly expanded volunteer roles at BRHS reaches beyond a single animal, creating a ripple effect that helps ensure our animals stay safe, fed, and loved in their homes.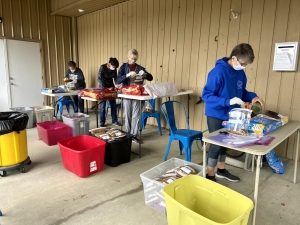 Dianne shares: "After our shift was over one day recently, as we left, we saw the van packed to the brim with all the food we had bagged that day, and I think we all realized, maybe for the first time, exactly how much of an impact our efforts had been having. It felt really, really good."
Concerns about health and safety did reduce the number of volunteers who felt comfortable filling public positions and increasing their exposure to others, as many of our volunteers fall into increased risk categories. We all at BRHS understand this concern and always want our volunteers to feel safe and confidant when they are with us. While we miss our full slate of volunteers, we'll be excited to welcome them back when the time is right!
If you are interested in learning more about volunteering with BRHS and making a life-saving impact, contact Natalie at volunteer@blueridgehumane.org or at (828) 692-2639 ext. 305.
https://www.blueridgehumane.org/wp-content/uploads/2021/03/Casher-2012.jpg
1600
1200
angelap
https://www.blueridgehumane.org/wp-content/uploads/2016/08/BRHS-Logo-01-1030x305.png
angelap
2021-04-20 16:29:34
2021-04-20 16:29:34
Volunteers Step Up In New Ways