Foster Friday: Sometimes it Just Takes a Little Time!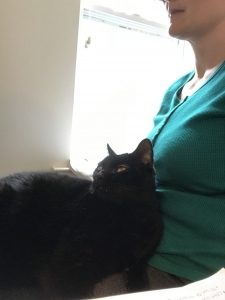 Happy Foster Friday!
We have a story to share of a very special kitty named Drake! Drake has been in and out of BRHS 3 times, having been adopted and returned with his brother each time. He was always a staff favorite during each stay, just as sweet, gentle and loving as kitties come. Unfortunately, previous adopters had complained of litter box issues, which we started to suspect were due to stress, a very common culprit of behavioral issues in cats. When he made his way back to us for the third time, we were all  heartbroken to see him back but wondered if a change of scenery without his boisterous brother around would help his stress levels. We reached out to Lenore, a new foster who was wanting to foster an adult kitty. She took him home and provided a nice quiet room for him to acclimate into and it wasn't long before he showing off his irresistible personality! She wanted to take it slow introducing him to her two senior dogs, and took things at Drake's pace every step of the way.
"Let's just say this little guy is making himself right at home. He immediately warmed up to us and felt comfortable in his new space. He made kitty biscuits on my stomach last night and smooshes everything! I decided to work in his room today to keep him company and he LOVES the attention! He's a total ham! He's been a very good boy with the litter box too. He hears the dogs walk by outside the room occasionally and is very interested to see what's on the other side of the door. The dogs have smelled his scent on us but don't seem to care much."
A couple weeks later, after a lot of careful consideration, Lenore reached out to us, wanting to adopt!
"Losing our dear Spice left a huge hole in our hearts that I didn't think we were ready to fill on a permanent level so soon. But Drake, now Buddy, caught us by surprise! I'm a firm believer that he chose us… and maybe somehow Spice had a paw in it! And some more pics just because he's so freakin' adorable!"
We are so happy that after such a long journey, that Drake and Lenore have finally found each other. Drake is a very special kitty near and dear to our hearts and we are so grateful that Lenore not only gave a chance to a cat with some behavioral question marks, but ended up seeing the amazing kitty that we also see.
Thank you to Lenore for giving Drake, now Buddy's story such happy ending – it's a true foster success!
If you would like to get started as a foster, we are always in need (and no you don't have to keep them!) so please fill out the quick form here to get started.
https://www.blueridgehumane.org/wp-content/uploads/2020/10/IMG-9750.jpg
1997
1500
Laura Rice
https://www.blueridgehumane.org/wp-content/uploads/2016/08/BRHS-Logo-01-1030x305.png
Laura Rice
2020-10-16 08:22:46
2020-10-20 18:01:00
Foster Friday: Sometimes it Just Takes a Little Time!