Not Alone, Blue Ridge Humane is Grateful for Our Partners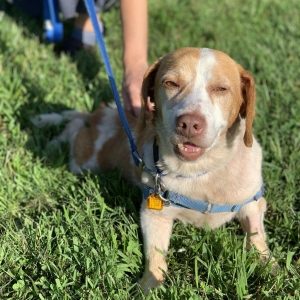 As we've kicked off our 70th birthday celebration, one thing has become clear: we're not alone in our mission.
In 1950, when Blue Ridge Humane Society was founded, the initial mission was to save lives and give animals a second chance at love and a home that wasn't otherwise available. Throughout the last 70 years, we've grown and continued to work hard to not only facilitate those second, third, and beyond chances, but risen time and again to meet new needs and animal crises in our community. Our philosophy has grown to encompass "Beyond Adoptions" to support current pet owners with needed programs such as low-cost spay/neuter services, foster programs, community pet food and food bank partnerships, vet and vaccination assistance, the Pet Pals program with Meals on Wheels, training and behavior classes and assistance, education programs for adults and youth through local clubs and the school system, and more.
Alongside us are the generous individual donors, involved corporate sponsors, dedicated volunteers, and hardworking partner agencies. As we celebrate thousands of animals saved, we are grateful for all the agencies that we work with who allow us to reach even further as we continue to forge lifelong bonds between pets and people.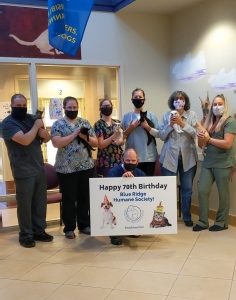 Brad Rayfield, Director of Henderson County Animal Services Center shares:
"Since I was hired as the Animal Services Director in 2007, I've had the privilege of being involved with BRHS in some capacity.  I remember the first people I met from BRHS were Jim Walsh and Duncan Frazier.  It was early December 2007; I was really nervous about my new job and my new responsibilities. Mr. Walsh and Mr. Frazier encouraged me and offered support.  Their hospitality and eagerness to help was just a precursor to what I would experience with BRHS from then on.
Since then, I've watched BRHS evolve and the organization keeps getting better.  I know 13 years is just a snapshot of the 70 years they have been serving the area, but BRHS has always impressed and never disappointed me.   Of all the 50 to 60 rescues we work with, BRHS is always our go-to organization and pull more animals from the shelter than any other rescue. To all of the staff, volunteers and donors: your dedication has made a tremendous impact on animals in this region and the staff of HCASC are grateful. Without BRHS, our jobs would be so much harder and there would be a lot less happy outcomes for stray and displaced animals in Henderson County."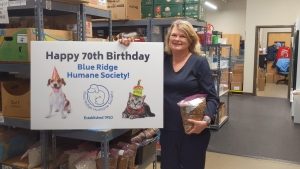 Elizabeth Moss, Executive Director of Interfaith Assistance Ministry paints a picture of the need faced this year and the role we've been able to play not just in response to Covid-19 needs but to the hardships that life sometimes brings:
"We cannot thank you enough on behalf of the neighbors in need that we serve who have pets. Because of you and your donations to us, we don't have to encourage clients to find new homes for their pets if their pet care expenses are out of balance on the required intake budget worksheet.
We served over 14,000 local neighbors in need so far this year and a large percentage of them need pet food. At our drive-through Tuesdays where we distribute food, 159 families came by this past Tuesday and over half of them had animals in the car, and needed dog or pet food."
Through partnering with a wide range of organizations, we are able to reach all corners of our community. Emily Sherlin, The Salvation Army Social Service Director, coordinates with our Community Outreach Department: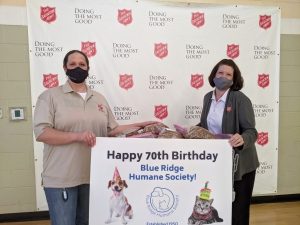 "Over the last twelve months, Blue Ridge Humane Society has donated 6,400 pounds of dog and cat food to The Salvation Army which was given to 1,200 families in Henderson County through our food pantry. We appreciate the partnership with Blue Ridge Humane Society and their commitment and efforts to provide food, shelter, and needed medical services to the animals in this community. The Salvation Army wishes them a happy 70th birthday and looks forward to many years to come!"
As we prepare for the new year and look forward to our next 70 years, we are grateful for those that partner with us in new ways to enhance and support the animal and human connection, like through the Pet Pals program with the Council on Aging for Henderson County.
"We're very grateful for the work the Council on Aging for Henderson County and Blue Ridge Humane Society do together, not only providing pet food for our clients whose animals are so very important to them, but also partnering with us and providing wellness checks, grooming, vaccinations, and everything needed to keep our four-legged friends happy and healthy," shares David Cameron, Director of Operations.
It's these partnerships and programs, along with many others, that exhibit the goodwill and hard work of our community to make Henderson County a happier, healthier, and more pet-friendly place to live, work, and thrive.
To all of our supporters and partners, we say Thank You for a wonderful 70 years and look forward to what the next 70 bring!
You can leave your mark on 2020 and propel us into 2021 with your tax deductible gift. And, thanks to the Coronavirus Aid, Relief and Economic Security (CARES) Act, non-itemizing taxpayers can deduct up to $300 in charitable cash donations in 2020!
https://www.blueridgehumane.org/wp-content/uploads/2020/12/HCASC-2.jpg
1361
1072
angelap
https://www.blueridgehumane.org/wp-content/uploads/2016/08/BRHS-Logo-01-1030x305.png
angelap
2020-12-29 12:12:02
2020-12-29 14:33:07
Not Alone, Blue Ridge Humane is Grateful for Our Partners