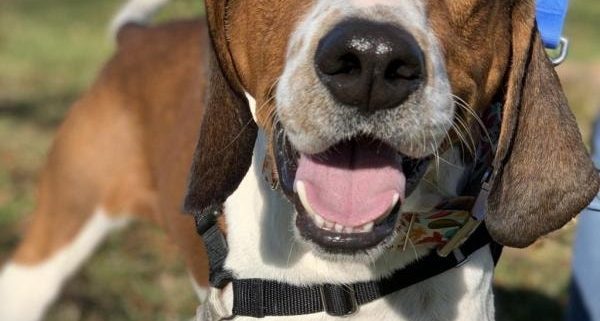 Today's Happy Tail is Donner!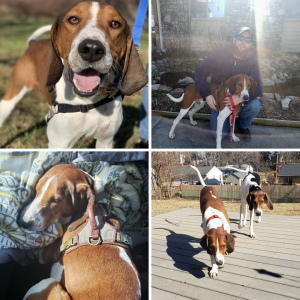 This Happy Tail update from Donner's adopter Jessie made our hearts melt! Jessie shared the following, along with lots of photos of Donner's new life:
"It was exactly one year ago today that we stumbled upon Donner.
We had JUST decided to wait on getting another dog- maybe a week prior. We were lying in bed, scrolling Facebook, on a dog group not even meant to be promoting adoptable pets. It was just a picture of him from one of the humane society staff, "Can Donner get some love? He's been at our shelter since before Christmas and isn't dealing well with shelter life." The post was only up for a few hours and we just happened to see it.
I gasped. I turned my phone to Mark and he said, "Where is he? I'll go get him right now!" (Also how I know he is meant to be my partner in life.) Me, always being cautious, said hang on let think about it.. twice the food, twice the vet bills, etc… but I knew in my heart, in that split second that we first saw his face that we needed this boy in our home.
I chatted back and forth with an amazing woman from Blue Ridge Humane Society for a few days, and we decided that he was definitely the right fit for us and Winston. We knew adding any other furbabe to our family would shake up Winston's world, but he LOVED playdates and Donner did as well.
So Valentine's day last year, after working all day, Mark and his dad got in his truck and drove 14 hours down to the NC/TN boarder to bring this guy home. Then immediately drove 14 hours straight back. Donner slept the entire drive. In the middle of the night, Feb 16th, Winston and I met Donner outside to introduce them. Our hearts have been full ever since.
He had been returned a few times and the staff there had grown so fond of him. They sounded like they were expecting him to be returned yet again. He needed some training, but other than that is the sweetest boy (and reminds us of Wheeler's huge heart often). He has settled in amazingly, and just when we think he's at his maximum comfort level, he surprises us with another new trait. His latest is sleeping with his head on my pillow. I'm glad we could take him from shelter life and now give him the world. (He is currently napping in the middle of our king size bed in all the cozy blankets with the whole thing to himself.)
I'm so thankful, every single day, that we have this guy as part of our family. We love you Donner!"
Thank you Jesse and Mark for giving Donner the best gift ever, a welcoming family with unconditional love when he needed it the most!
Do you have a Happy Tail to share? Submit it here! Want to be a part of making a Happy Tail happen? See our adoptable animals here!
https://www.blueridgehumane.org/wp-content/uploads/2021/02/Donner-1-year-adoption-3.jpg
600
600
angelap
https://www.blueridgehumane.org/wp-content/uploads/2016/08/BRHS-Logo-01-1030x305.png
angelap
2021-02-25 08:00:16
2021-02-19 13:00:40
Donner's Happy Tail